Ольга Леонідівна Рябченко | Olga Ryabchenko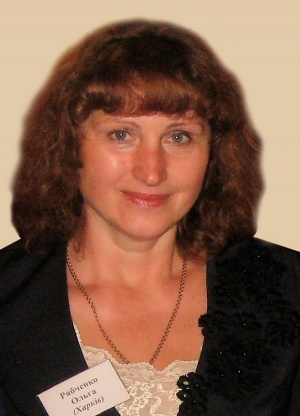 Україна | Ukraine
Сфера научных интересов | Area of science: Theory and history of the everyday life, the history of students, science and education, gender history, problems of Ukrainian national and cultural identity, historical urbanistics.
Учёная степень | Academic Degree: Doctor of Science (History), рrofessor
Университет (Аффилиация) | University (Affiliation): H.S. Skovoroda Kharkiv National Pedagogical University Head of the Department of World history
E-mail: lerche555@ukr.net
5 публикаций и дополнительная информация | 5 publications and additional information:

• A monograph. Rjabchenko O. Studenti radjans'koї Ukraїni 1920– 1930-h rokіv: praktiki povsjakdennostі ta konflіkti іdentifіkacії, Kharkiv, 2012, 456 s.
• A monograph in co-authorship. Suspіl'stvo і vlada v radjans'kіj Ukraїnі rokіv nepu (1921–1928): Kolektivna monografіja. Tom.1. Vіdp. red. S. V. Kul'chic'kij. K. : Іnstitut іstorії Ukraїni, 2015. 656 s.
• Vіdnosini derzhavi, suspіl'stva і osobi pіd chas stvorennja radjans'kogo ladu v Ukraїnі (1917–1938 rr.). K. Іnstitut іstorії Ukraїni NAN Ukraїni, 2013. 812 s.; Ukraїns'ke radjans'ke suspіl'stvo 30-h rr. XX st.: Narisi povsjakdennogo zhittja, K., 2012.
• Ryabchenko О. Everyday life of the forced workers of the Spandau plant by the eyes of a Ukrainian ostarbeiter // Storіnki voєnnoї іstorії Ukraїni: Zb. nauk. statej / NAN Ukraїni. Іn-t іstorії Ukraїni. K., 2016. Vip. 18. S. 127–132.
• Riabczenko O. Studenti z Naddnіprjanshhini v kraїnah Central'no-Shіdnoї Єvropi u 1920-h rokah: problemi socіal'noї adaptacії // Człowiek w Europie. Człowiek wobiec problemów XIX I XX wieku. Redakcja naukowa Macej Franz; Mariusy Kardas. Toruń: Wyd-wo Adam Marszałek, 2012. S. 85 – 105.
• Rjabchenko O. Strategії povodzhennja z pam'jatnikami komunіstichnogo minulogo v Ukraїnі (1917–2017) // Radjans'ka povsjakdennіst' u kul'turnіj pam'jatі suspіl'stva. Vіnnicja, 2017. S.58–71.
ГОЛОВНА | HOME PAGE | ГАЛОЎНАЯ | ГЛАВНАЯ

НОВИНИ Й АНОНСИ
---
ФОРМА ЗАЯВИ ВСТУПЛЕННЯ В МАГ
APPLICATION FORM
---
ПАРТНЕРЫ